Thinking of going on The 80s Cruise in 2018? Here's our discount code
"So you wanna work at All-American Burger?" Wait, wrong line, wrong movie. Anyway, so you wanna go on The 80s Cruise? Of course you do. It's the most immersive, totally awesome trip back through time to a kinder, most gentle decade. Well, now you can book the 2018 cruise and save some money in the process.
Stuck in the '80s has a promo code - STUCK - that will save you hundreds off the list price for cabins. See the chart below for details. When booking though, you will need to use the code STUCK to get these rates.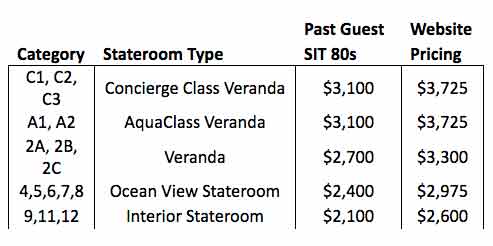 The 2018 trip departs Fort Lauderdale on the Celebrity Summit on March 17, 2018 for a seven-night trip through the Eastern Caribbean. Artists performing onboard include: Rick Springfield, Loverboy, Billy Ocean, Mike and the Mechanics, Berlin, Thomas Dolby and more. And MTV veejays Mark Goodman, Nina Blackwood and Alan Hunter will be on hand. Oh, and did we mention that Springfield is actually HOSTING the trip? So if you've been dying to hang out with Dr. Noah Drake, this is your chance.
BTW, anyone booking with the STUCK code also gets an exclusive invitatation to watch Stuck in the '80s hosts Steve Spears and Brad Williams record a podcast interview with one of the artists on the ship. Oh, and Spearsy and B-Rad also host the daily trivia sessions.
Better hurry up though; the boat is already 70 sold, so time is running out. Email us at sit80s@gmail.com if you have any questions.