From 'Nugget Boy' to #DiddyCrop, here's the best pop culture had to offer this week
Nicki Minaj makes it rain on Twitter
The rapper was feeling particularly generous this past week, shelling out thousands of dollars on her fan's college expenses.The Super Bass star was tweeting about a Billboard Music Awards contest when she scrolled past a tweet from someone asking her to pay their tuition.
"Show me straight A's that I can verify w/ur school and I'll pay it. Who wants to join THAT contest?!?!," she wrote. "Dead serious. Shld I set it up?"
Minaj spent a good chunk of the evening responding to tweets asking for money for books, tuition coverage or cash to relieve some student debt. One fan asked for a $1,000.
"That's it? I'll send it tmrw. dm me ur bank info babe. Next!"
Minaj ended her "contest" shortly after midnight, tweeting that she would offer up some more donations in a month or two.
Got u https://t.co/TMlEx5H5Gk

— NICKI MINAJ (@NICKIMINAJ) May 7, 2017
Let's give it up for Nugget Boy
Ellen DeGeneres is no longer the most retweeted person of all time. That title now goes to Carter Wilkerson, or Nugget Boy, as the Internet calls him. Wilkerson, 16, asked Wendy's how many retweets he needed for a year's supply of chicken nuggets.
The tweet skyrocketed the Nevada teen to social media stardom after Wendy's responded, saying he needed 18 million. Wilkerson didn't make it to 18 million, but he still managed to hit 3.5 million retweets, beating DeGeneres' epic Oscar selfie, which held the record.
Becoming the most tweeted person was good enough for the fast food chain, and they finally granted him his free nuggs for a year. Wilkerson better watch his back, though. DeGeneres gifted the teen a 55-inch TV and a year's supply of her underwear for him to back off her title.
"If somehow you pass me Carter, I will come to your house, I will take that TV back, I will take the underwear back and do more," she said.
HELP ME PLEASE. A MAN NEEDS HIS NUGGS pic.twitter.com/4SrfHmEMo3

— Carter Wilkerson (@carterjwm) April 6, 2017
Kelly Clarkson will judge 'The Voice'
After a spell of rumors that Clarkson would be joining a reboot of American Idol, she has chosen a fresher path. She will be a judge on The Voice, People reported Friday.
"I'm so excited to join The Voice at NBC," Clarkson said. "We've gone back and forth about a role as a coach for years, but the timing hasn't been right until now."
As for the American Idol return, the news hasn't been released in full, but TMZ has reported that the show, now on ABC, will hold auditions at Disney World, rather than scattered around different cities.
#DiddyCrop was born
Most people would kill for a photo with Kylie or Kendall Jenner. It's guaranteed Instagram gold. Unless you're Diddy, because then you want nothing to do with that noise. Over the weekend, Kylie Jenner shared a post-Met Gala group shot on Instagram, flicking off the camera with her sister next to Diddy, Wiz Khalifa, Migos, Travis Scott and Jaden Smith. Diddy apparently liked the photo so much, he posted it himself ... minus the two Jenners.
The Internet quickly caught on to subtle shade, and thus, "Diddy Crop" became a meme.
"#diddycrop - a philosophy, a solution, a revolution," one Twitter user wrote.
Diddy captioned the photo "Black Excellence."
Diddy's pettiness is on a diff level #DiddyCrop pic.twitter.com/VHfB5qLz6Q
— Yier (@IamYier) May 8, 2017
One Year and a Day
Abby Lee Miller, the controversial star of Dance Moms, was served her sentence Tuesday -- one year and a day in federal prison for bankruptcy fraud as well as for bringing $120,000 of Australian currency into the United States without reporting it. But it's all good, Miller has a plan to pass the time.
"I'm going to pretend I'm in a movie and we're on set and I'm there for 10 months and that's the way it's going to be," she said on Good Morning America. Good luck with that.
Boy demands apology from Mike Pence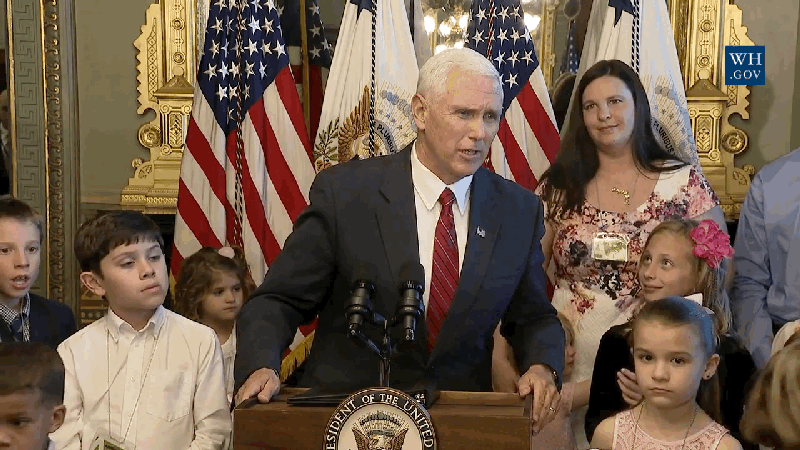 On Tuesday, the vice president celebrated National Military Spouse Appreciation Day by inviting military families to the White House. At the end of his speech, Pence widened his arms to thank the kids for joining him and accidentally swatted a young boy in the face. The boy, later called an "American hero," became relentless in his quest for an apology, following the vice president around the room as he took photos with kids. "Excuse me, excuse me," he said trying to get his attention, "You owe me an apology."
That struck a chord with a lot of people, many turning to social media to say they also wanted a personal apology from the administration.
But the pestering paid off, and Pence finally said he was sorry.
"I didn't mean to bop you," he said.
Here's the full video, edited by HuffPost
Other tidbits...
Arrested: Conrad Hilton, Paris Hilton's brother, has been released on bail after his arrest Saturday on grand theft auto charges and for violating a restraining order after he allegedly stole Rick Salomon's Bentley and drove it to where his ex, Hunter Daily Salomon, lives. Hilton, 23, has been ordered to check into a psychiatric clinic after outbursts in court.
Baby news: Zooey Deschanel (New Girl) and husband Jacob Pechenik welcomed baby No. 2, a boy named Charlie Wolf Pechenik. The name is certainly on brand for the couple, whose daughter's middle name is Otter.
Steven Tyler, 69, welcomed his fourth grandchild into the world. His daughter, Mia Tyler gave birth to her first child, a baby boy named Axton, on Thursday.
Engaged: Grant Gustin (The Flash) got engaged to longtime girlfriend LA Thoma on Saturday. The two shared the news in an adorable Instagram photo.